Parents we would love to see you at Back to School Night! #IMPACTtheFutureHUSD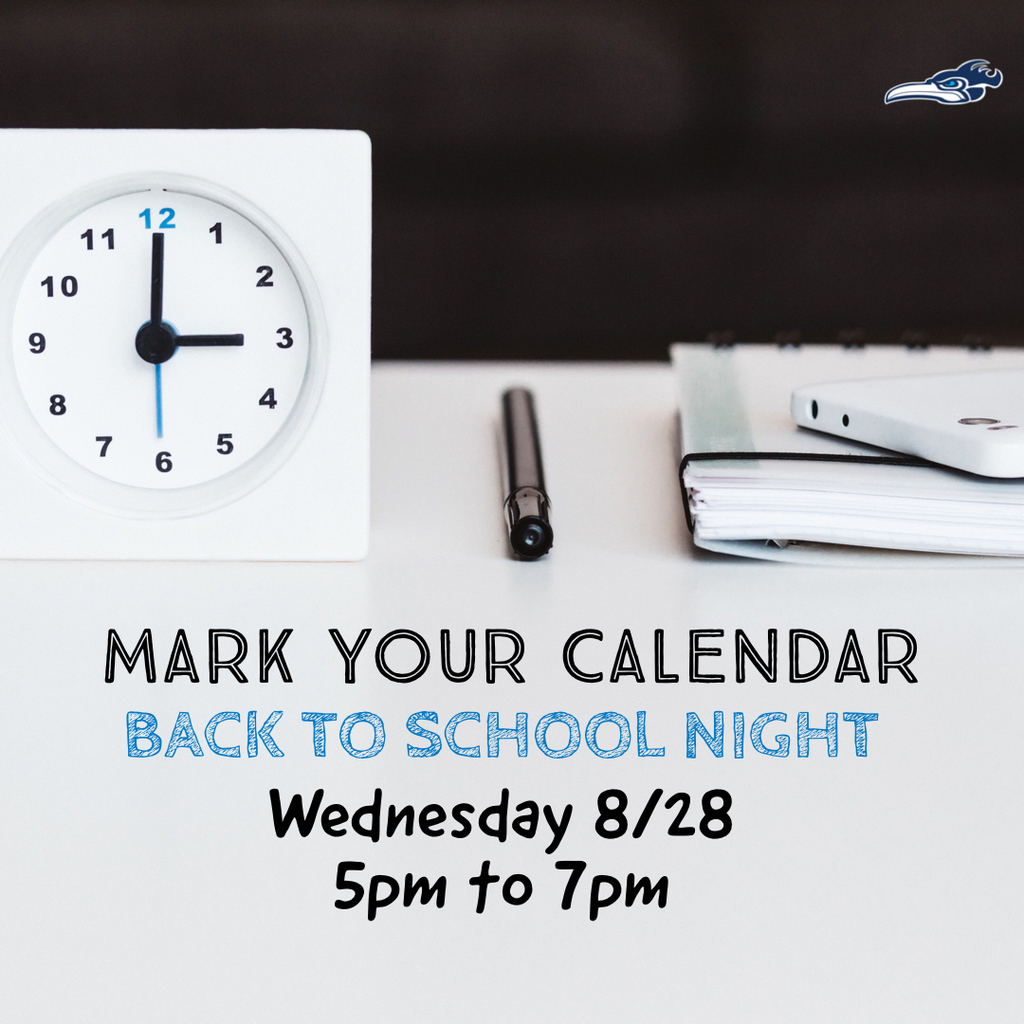 It's School Picture Day THIS Thursday 8/22 during your PE class. Parents your child received a flyer from their PE teacher about ordering/pricing. Students don't forget to SMILE! #IMPACTtheFutureHUSD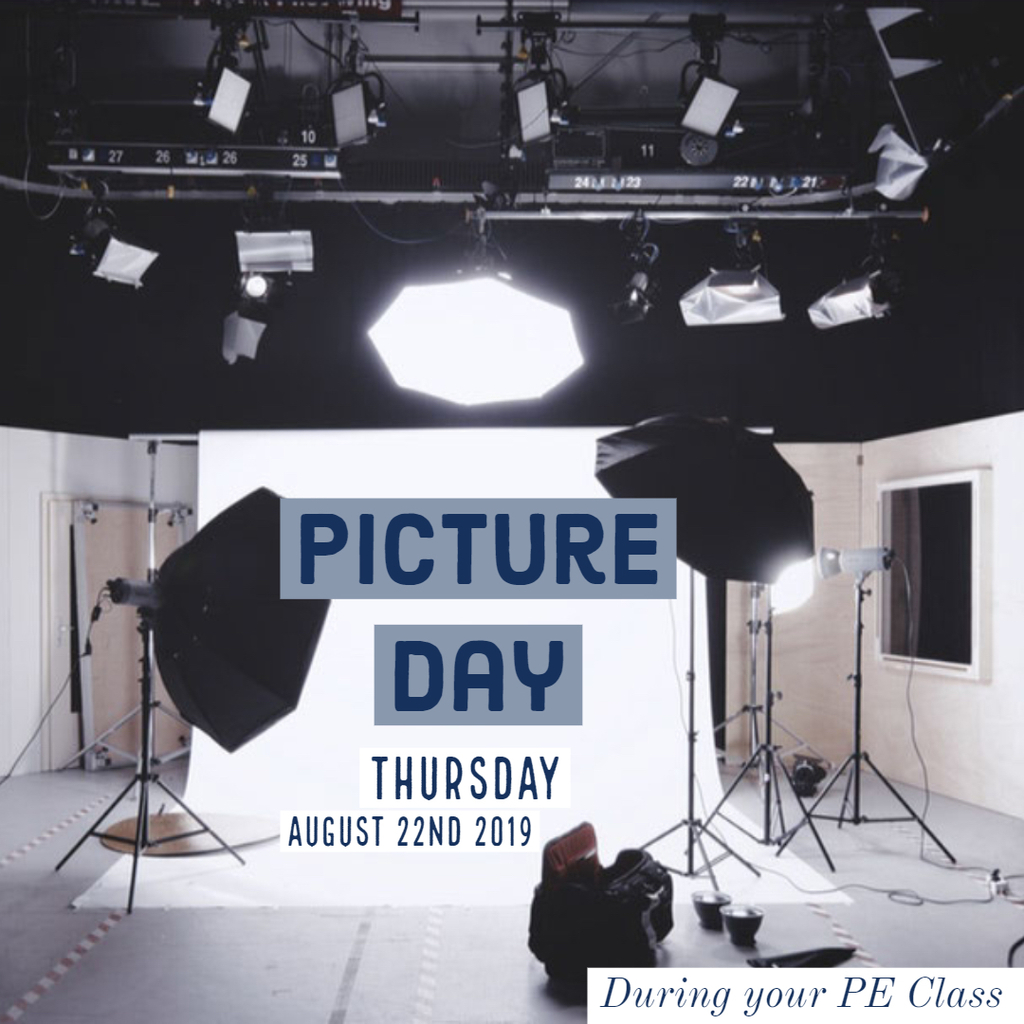 📣IMPORTANT ANNOUNCEMENT📣 Make sure you have filled out your important electronic documents on your Chromebook. Your parents need to sign too! Get them done ASAP so your Chromebook stays active! #IMPACTtheFutureHUSD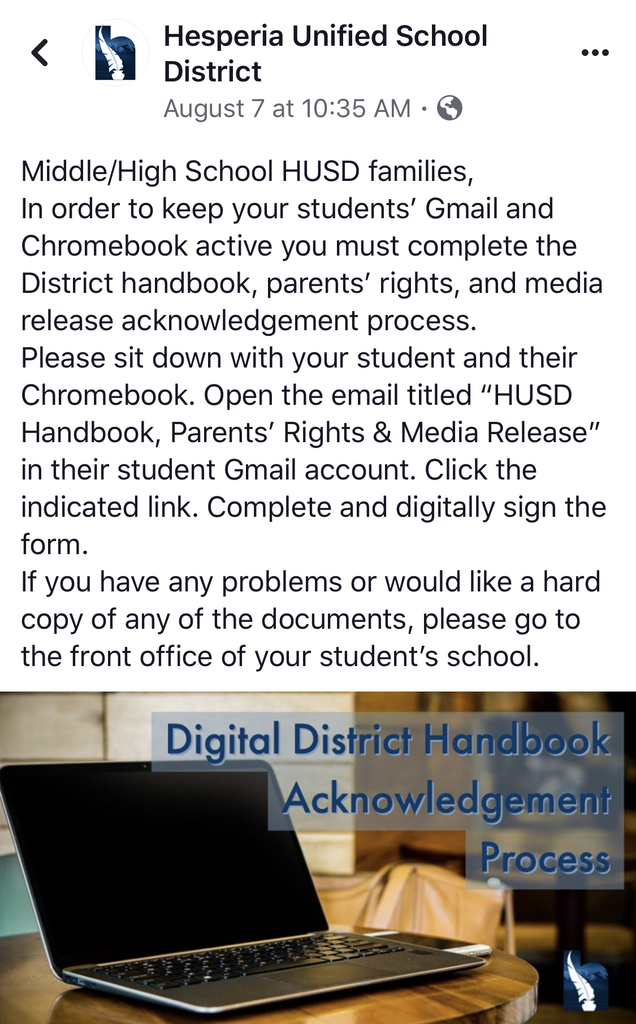 ROADRUNNERS! We have new spirit wear this year. The hoodies are selling fast, get yours before they are gone! We also have HJH shirts, hats, beanies, and lanyards available. #bleedblueFridays #IMPACTtheFutureHUSD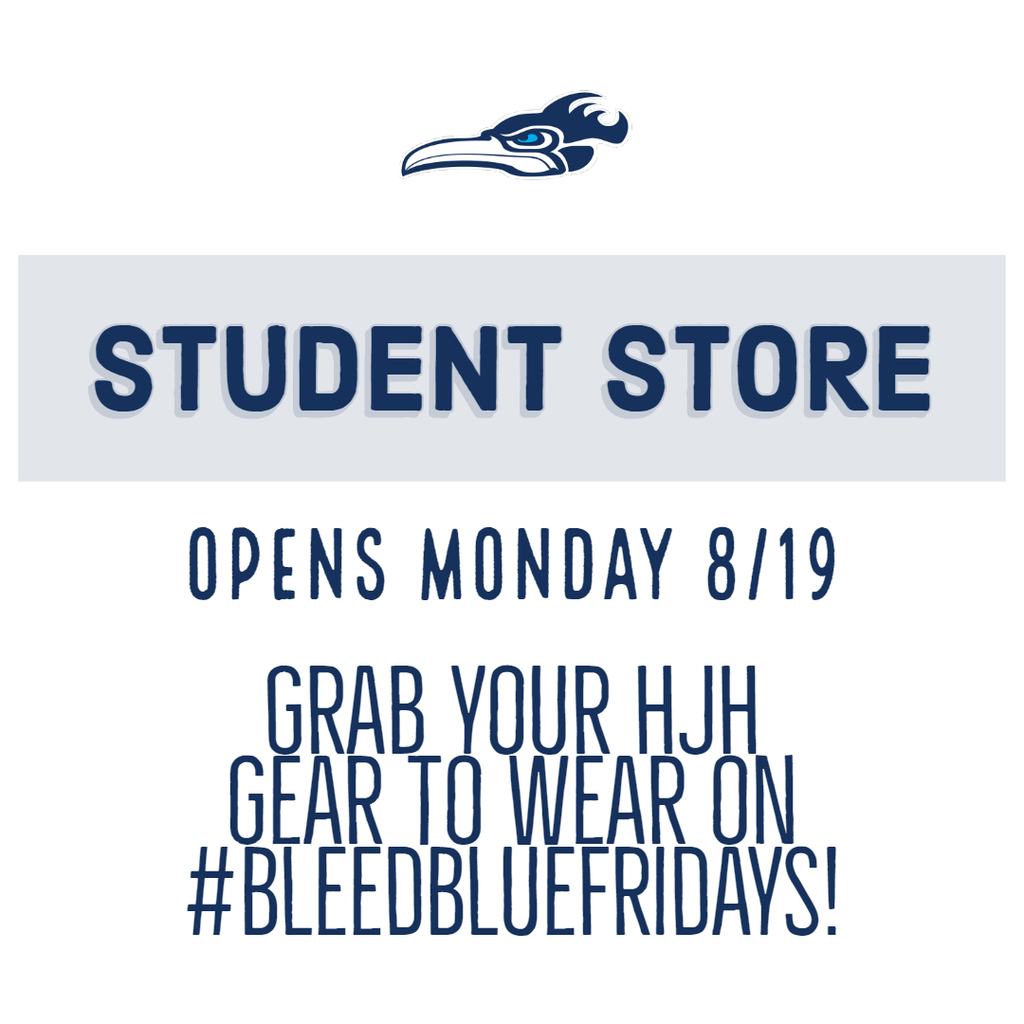 Hey Students! We will be assessing your Math & Language Art skills, starting Friday. In order to do that please bring earphones if you have them. #IMPACTtheFutureHUSD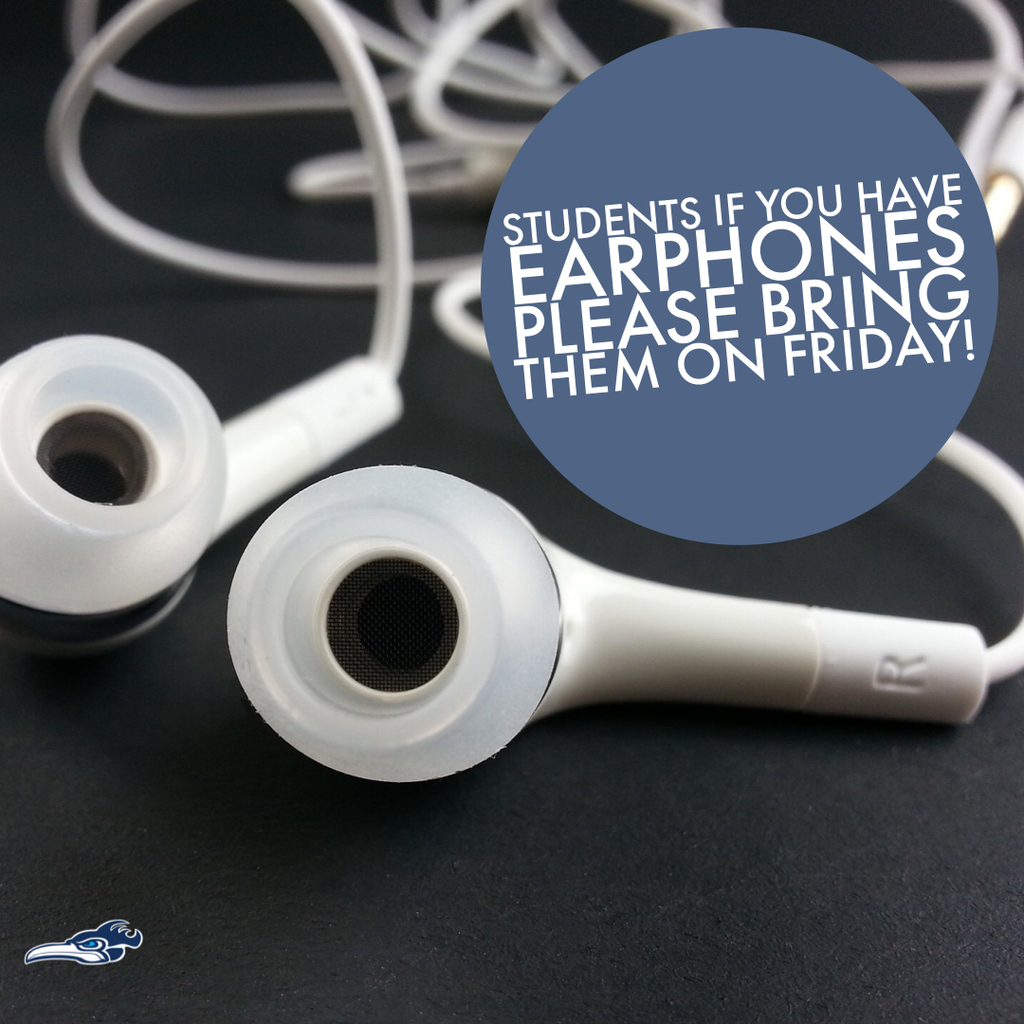 Yearbooks go on sale tomorrow. The cost is $20. Prices will go up in January. Get yours today. #IMPACTtheFutureHUSD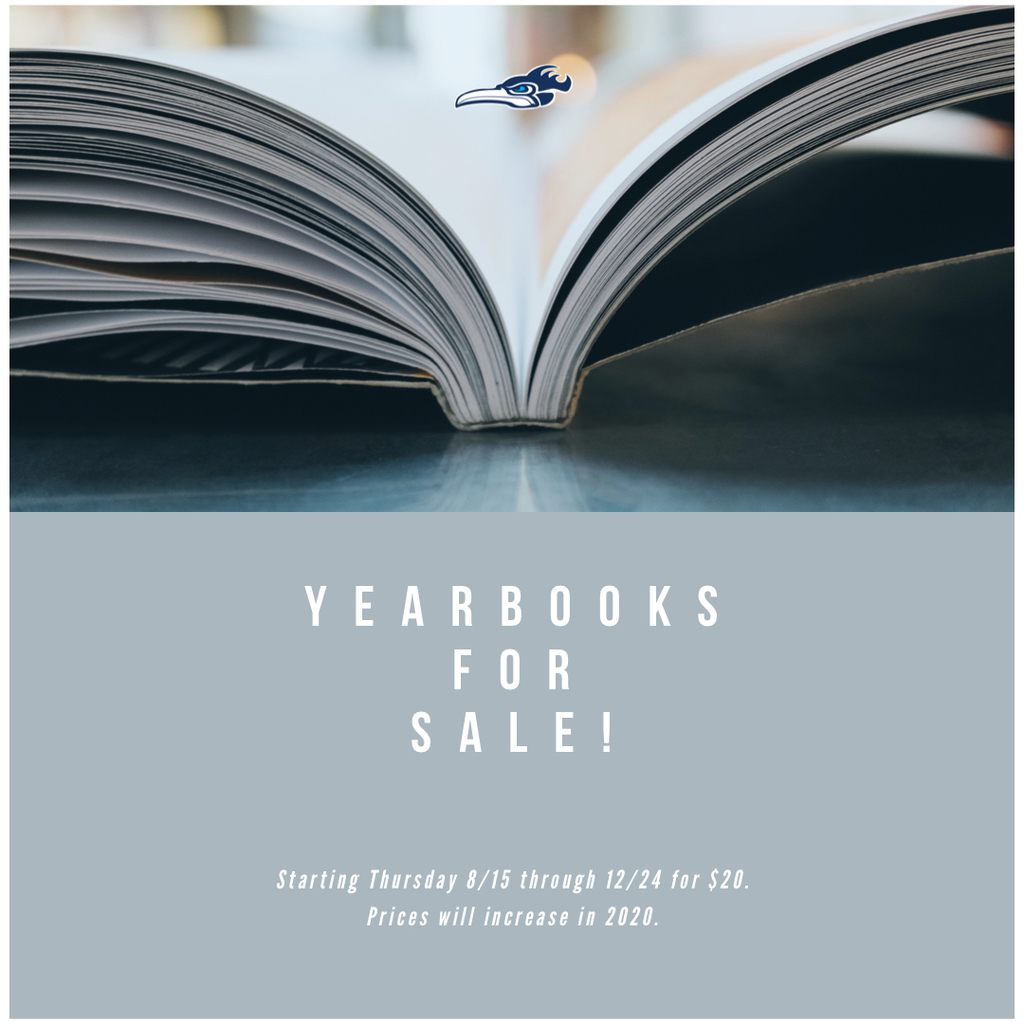 📣ATTENTION ALL STUDENT ATHLETES📣 Get your physical on site. Make sure you have $20 cash & parent permission. #IMPACTfheFutureHUSD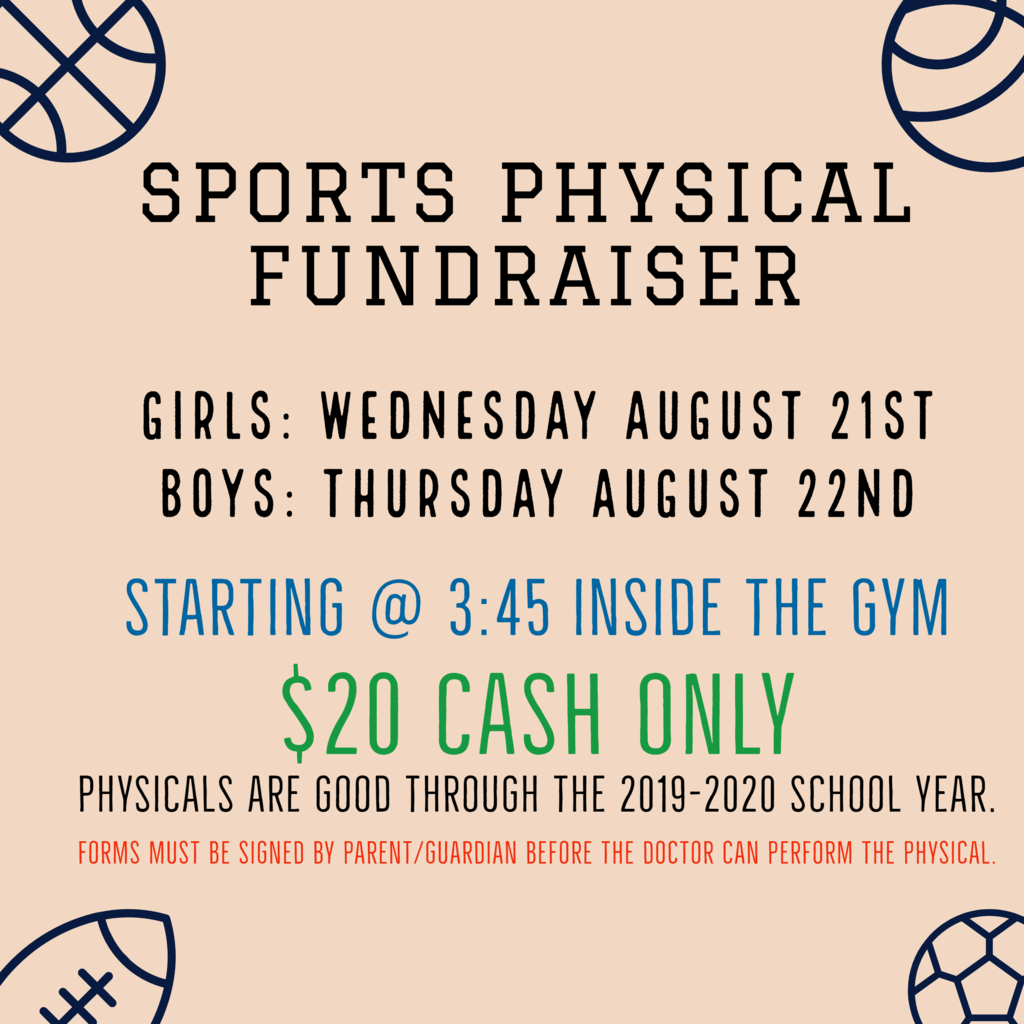 Students it's late start Wednesday tomorrow 8/14. 1st period starts at 9:26am. See you then! #IMPACTtheFutureHUSD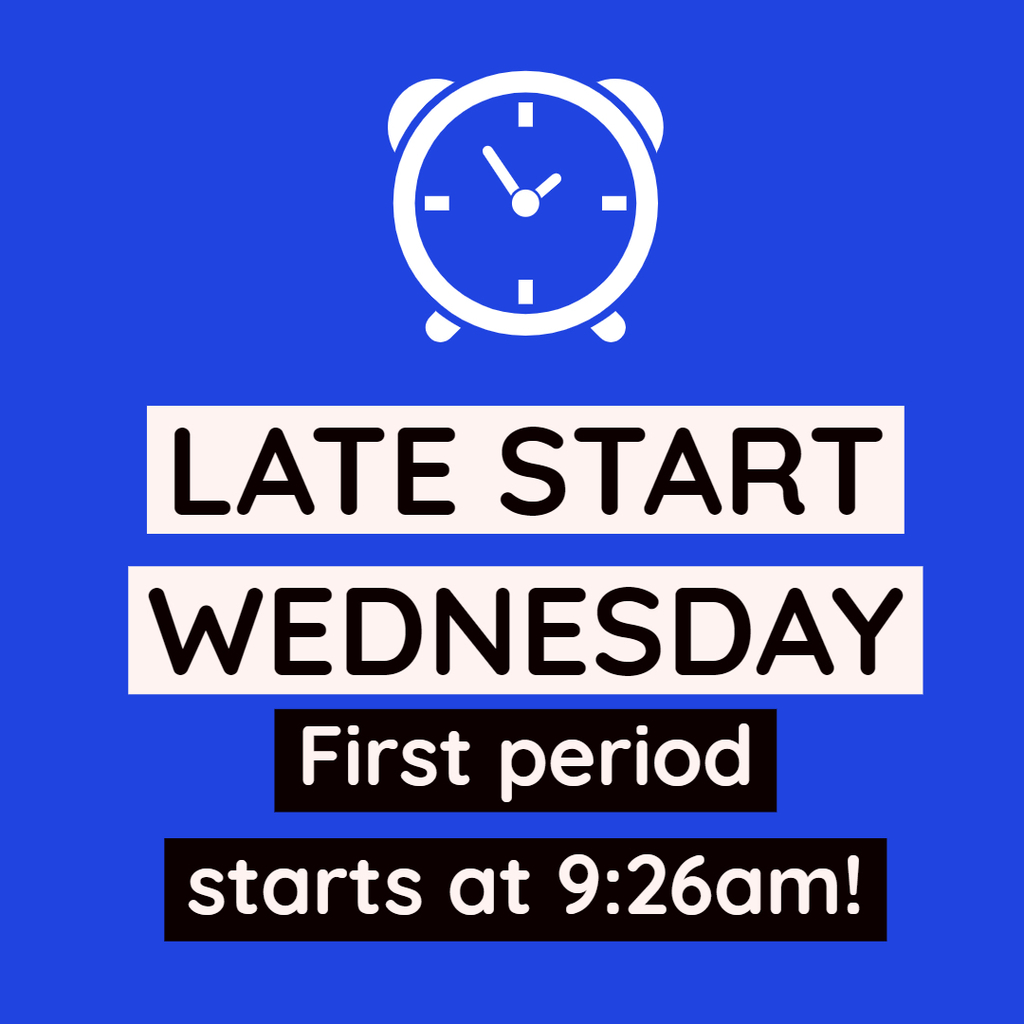 #HJH!!!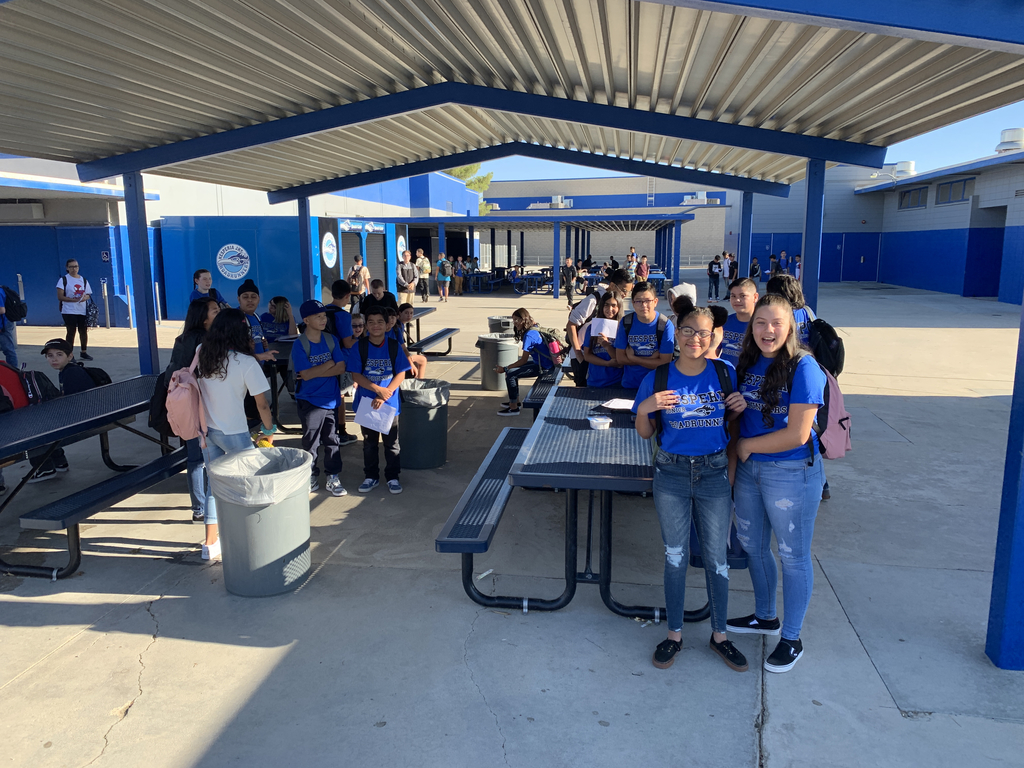 The time has come! 1st day of school is on Monday. Wear your free shirt you received at the Schedule/Textbook pick up. We can't wait to see you! #IMPACTtheFutureHUSD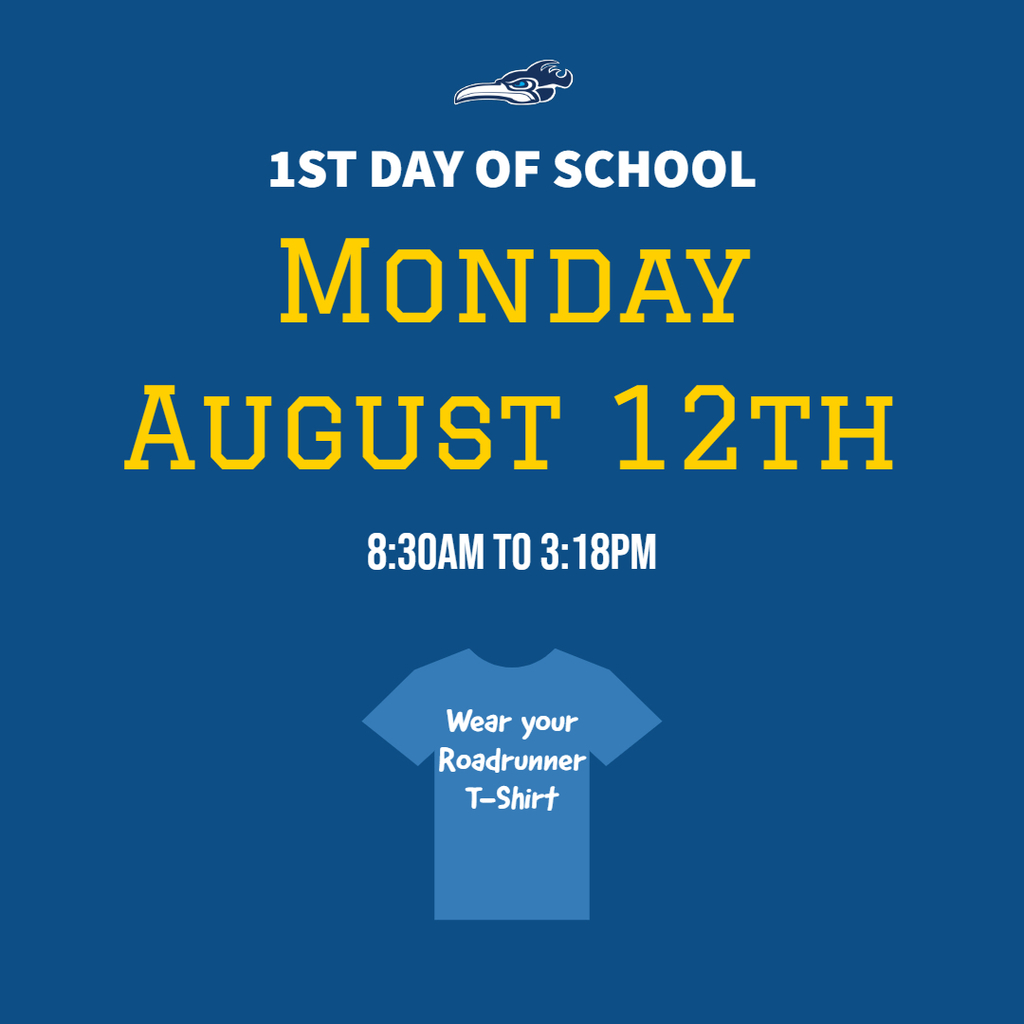 Hey Roadrunners, Don't forget to wear you free HJH spirit shirts on Monday. Let's show some Roadrunner pride!!!

Attention Parents & Students: Please be advised. It's predicted to be a very warm week next week for the first week of school. #IMPACTtheFutureHUSD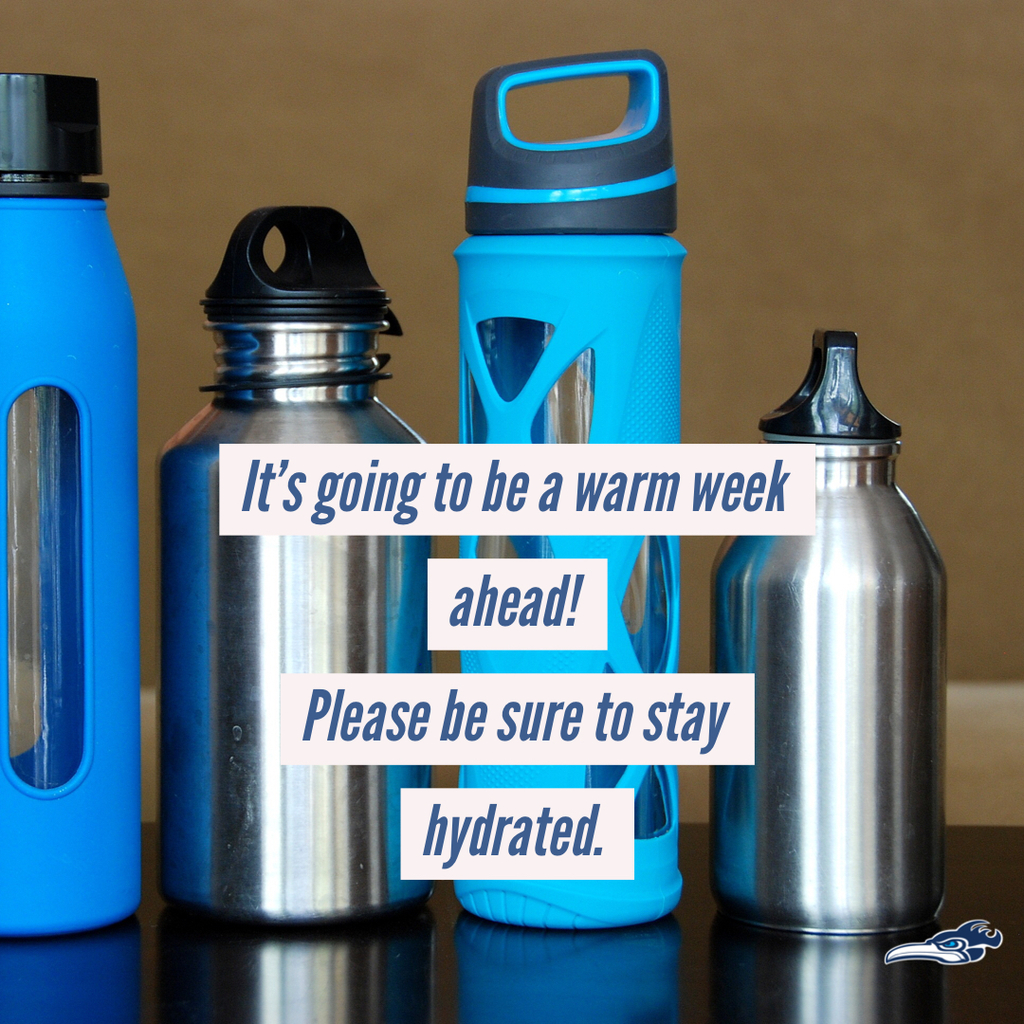 HJH and HHS students getting ready for school.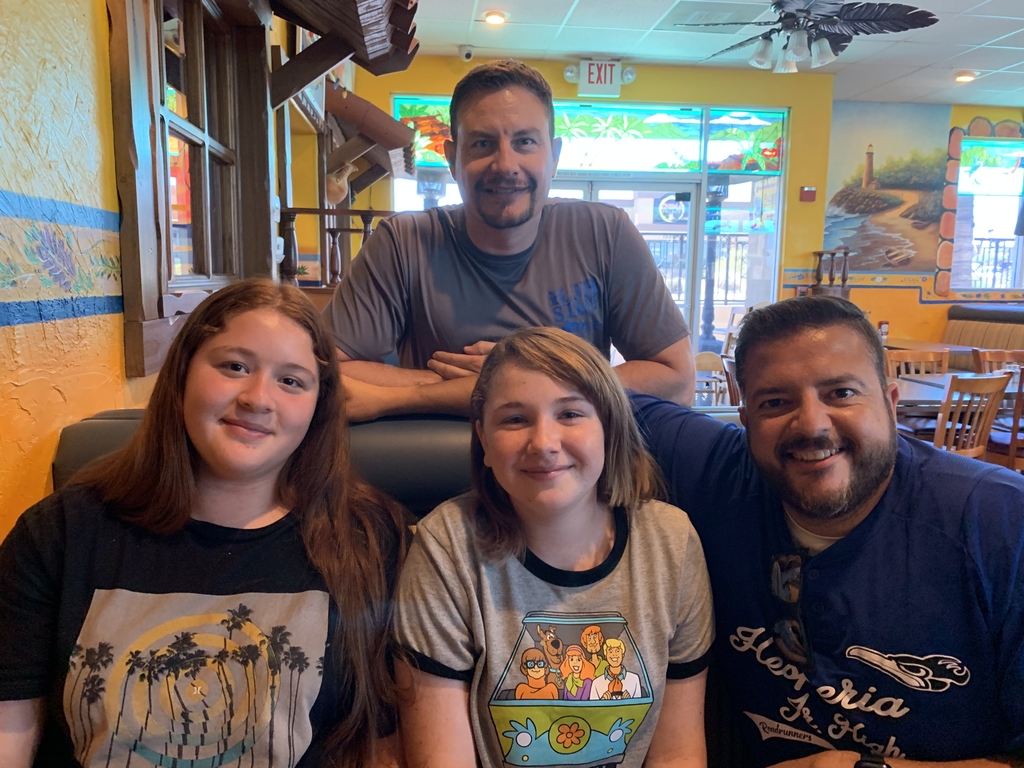 HJH WEB Baby!!!!!!!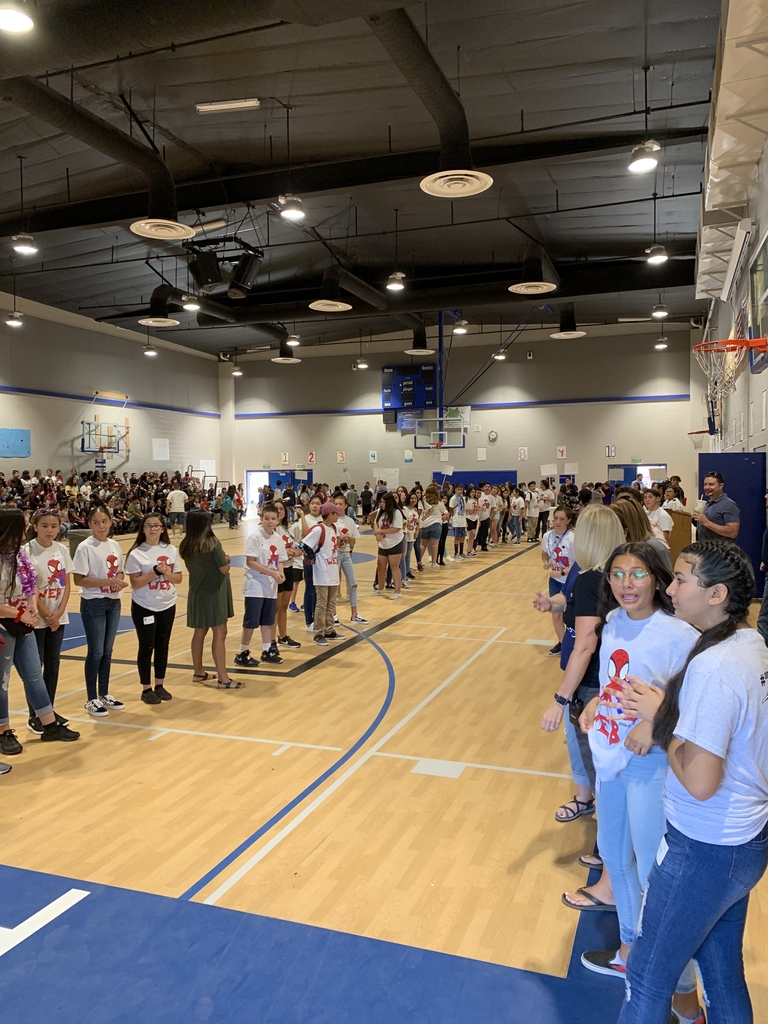 Welcome to Roadrunner Country! As I begin my first year as Principal at Hesperia Junior High, I would like to take this opportunity to express my utmost excitement and pride in working with the High Desert's best staff and students. I look forward to a great year and future with our proud Roadrunner family. We hope you have all had a relaxing summer and have recharged for an exciting 2019-2020 school year. Students, we at Hesperia Junior High welcome you and encourage you to get involved and make your time here a memorable one. Please see the following important dates: Wednesday August 7th 7th Grade WEB Orientation. 8:00am-12:00pm Wednesday August 7th 7th Grade Book and Schedule Pickup 1:00pm-3:00pm Thursday August 8th 8th Grade Book and Schedule Pickup 8:00am-12:00, 1:00pm-3:00pm Friday August 9th 7th & 8th Schedule and Book Pickup make up day. 1:30pm-3:00pm Monday August 12 First Day of School, 8:30am-3:18pm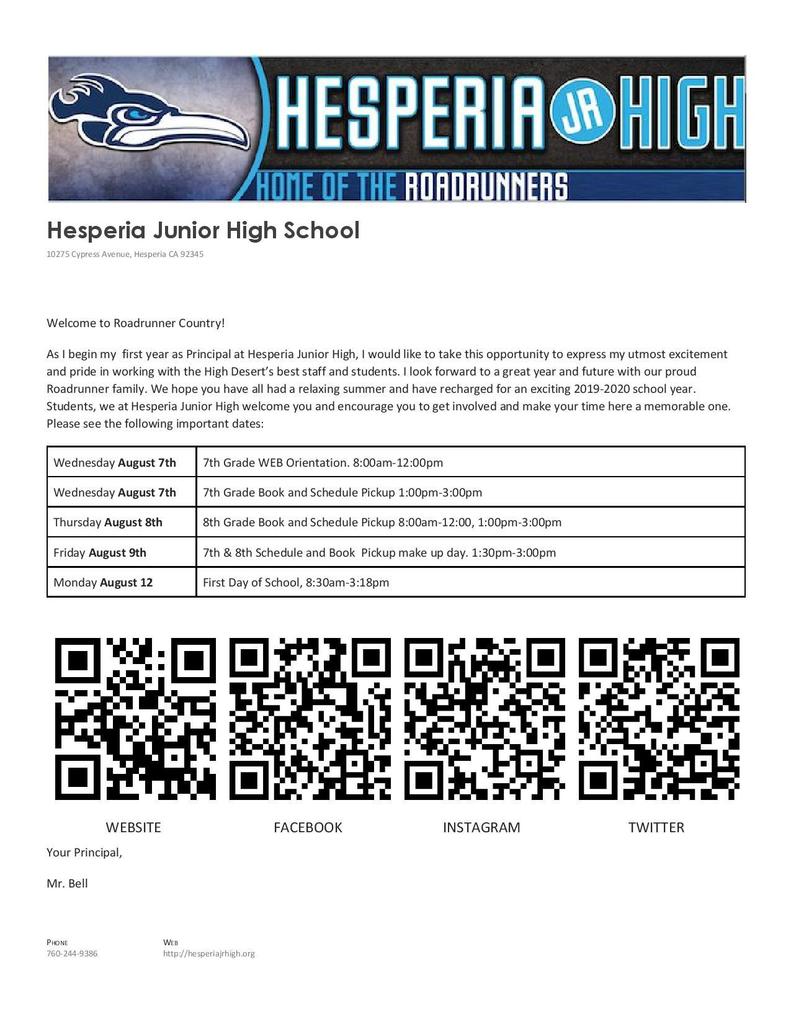 Hesperia Unified School District is pleased to announce that we will be using the Raptor Visitor Management System in all of our schools as part of our campus safety programs for students and faculty. All visitors, volunteers, and visiting staff will be asked to present a government-issued ID, such as a Driver's License, state ID, etc. The Raptor system only checks the visitor's name and date of birth for comparison with a national database of registered sex offenders. No other data from the ID is gathered or recorded. The system is not connected to any other database such as the Department of Motor Vehicles, and information is not shared with any outside agency. This implementation will help increase the efficiency in our offices, allowing District-approved volunteers to spend their valuable time in classrooms instead of in the front office. Thank you, in advance, for your support in enhancing safety in our schools. #IMPACTtheFutureHUSD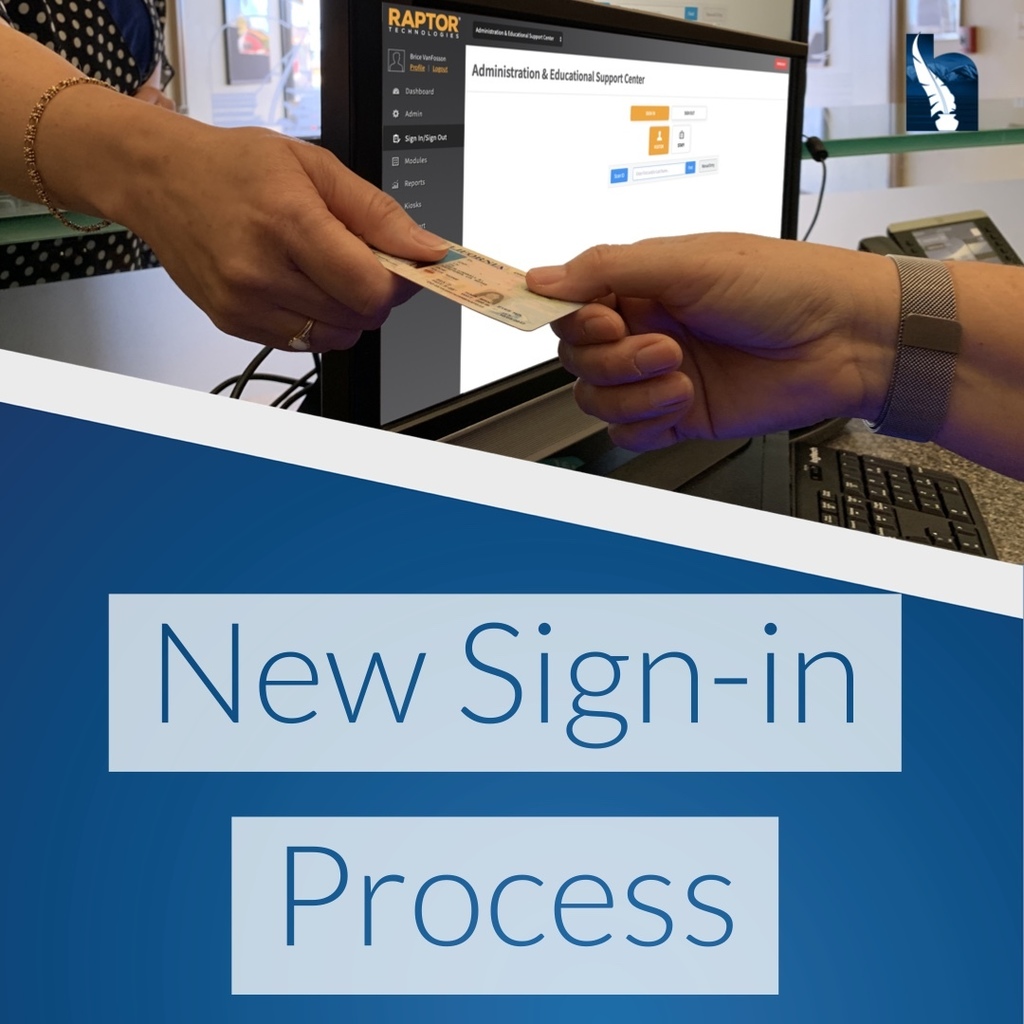 We are looking forward to welcoming our 7th grade class to Hesperia Jr High! Join us at our 7th Grade WEB Orientation in the Gym from 8am-12pm on August 7, 2019. Wear comfortable clothes and travel light! Fundraiser BBQ to follow! Class schedules will be available at 12pm.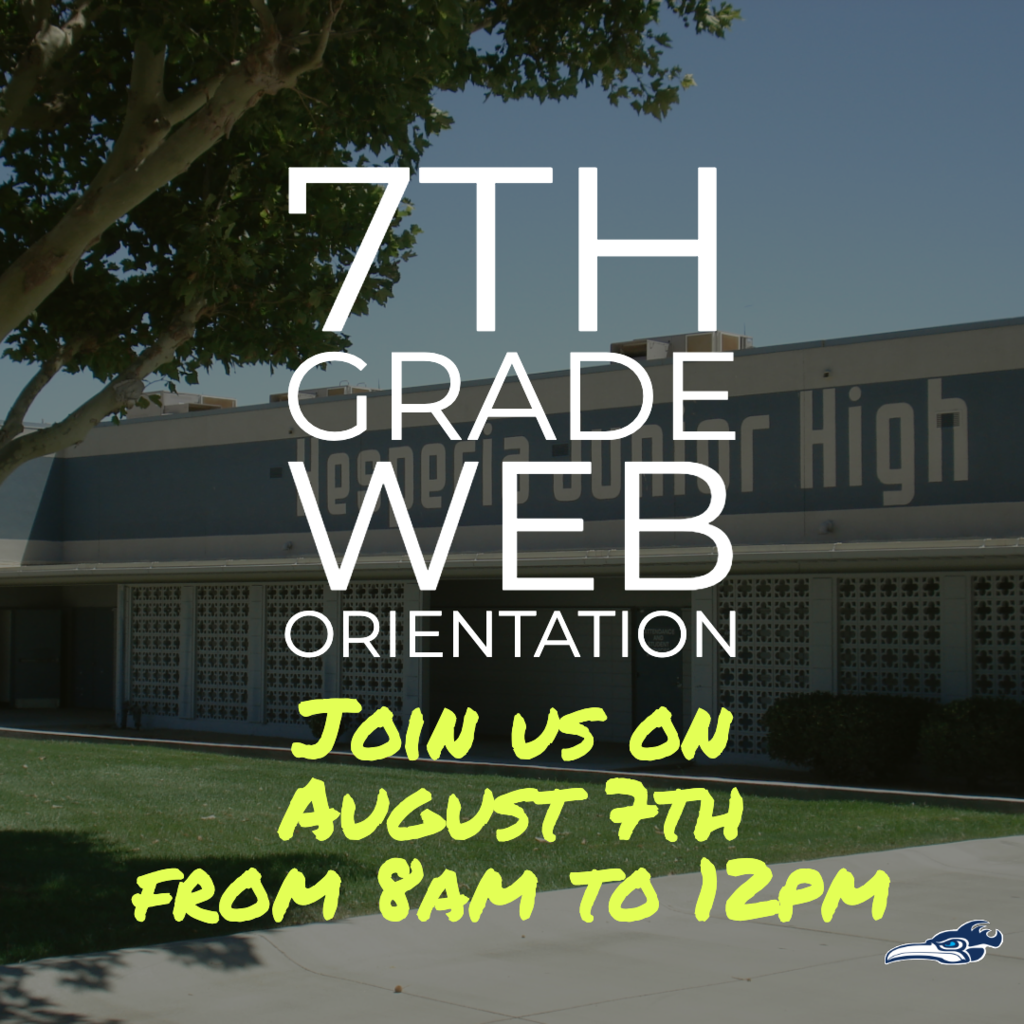 HUSD Nutrition Services is proud to provide FREE Summer meals for children ages 2-18 Monday through Thursday during June. Parents are encouraged to bring their own lunches while children take part in the activities. Check out next week's activities at Topaz Preparatory Academy! Earn a ticket each day for raffles later in the month! You must be in attendance during the raffle to win! Topaz Preparatory Academy's lunch is from 11am to 12pm. Menus are available on Topaz Prep's website and the HUSD app. #IMPACTtheSummerHUSD #ChooseKindness #IMPACTtheFutureHUSD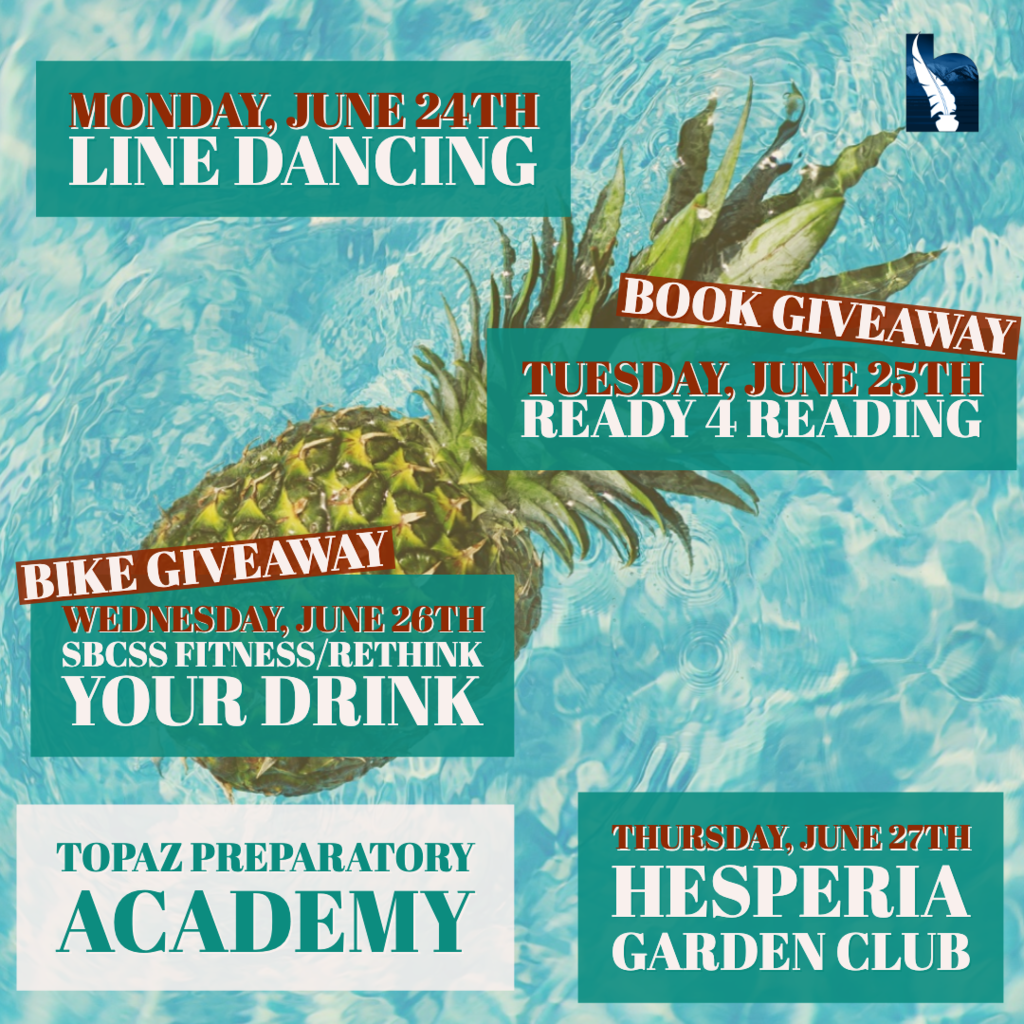 Hey Road Runners, Just a reminder that Hesperia High is hosting a Basketball camp for boys and girls from July 15th - July 19th. The cost is $125 per player and includes a T-shirt, Daily lunch, and features college coaches and players. Register until July 14 at Hesperiahighbasketballcamp.eventbrite.com

HUSD Nutrition Services is proud to provide FREE Summer meals for children ages 2-18 Monday through Thursday during June. Parents are encouraged to bring their own lunches while children take part in the activities. Check out next week's activities at Topaz Preparatory Academy! Earn a ticket each day for raffles later in the month! You must be in attendance during the raffle to win! Topaz Preparatory Academy's lunch is from 11am to 12pm. Menus are available on Topaz Prep's website and the HUSD app. #IMPACTtheSummerHUSD #ChooseKindness #IMPACTtheFutureHUSD